Reactions to Radioactivity (Thoughts about the Protest on Sunday)
by
Hanna
(Above: election results for the regional elections in Baden-Württemberg on March 27. Below: changes in support for each party. Both images from Tagesschau.)
Germany's response to the problems at the Fukushima reactor: 200,000 people protest again nuclear energy, Geiger counters sell out, old reactors are shut down, the Green Party gains an unprecedented 24.2 percent of the vote in the Baden-Württemberg election . . .
Japan's response: 1,000 people protest, residents of Fukushima are screened for radiation, radiation limits enforced for seafood as well as agricultural products from the area, foreigners flee the country, iodine tablets are passed out at embassies in Tokyo, the tap water in Tokyo is reported unsuitable for child consumption. . . anything else?
Why this difference? Why this drastic political change in Germany due to events on the other side of the world, while in Japan people adjust and move on? Is it good old Japanese stoicism? Do Germans know something the Japanese don't? Or is it because Germans remember Chernobyl and the cold war?
The protest tomorrow on April 10 is almost a full month since the disaster started on March 11. The nuclear reactors showed signs of significant damage and potential radiation leaks right after the quake when hydrogen exploded, damaging the reactor buildings even further. Why wait this long?
So, what is the situation in Tokyo? Radiation levels on University of Tokyo campuses (0.15μSv/h at Hongo (1), 0.10 at Hongo (2), 0.07 at Komaba, and 0.45 at Kashiwa campus at noon on April 8th) are for the most part lower than normal levels in the UK, which are approximately 0.251 microsieverts per hour, with Cornwall being four times as much as the rest of the UK according to a Bloomberg article on background radiation in various cities worldwide. So, the University of Tokyo measurements can be explained as background radiation levels.
What is the situation in Fukushima? The release of radioactive material is a small fraction of what was released in Chernobyl.
[A]t Chernobyl the full inventory of iodine and caesium was released in the initial explosion, so that at Fukushima any release of iodine should be much less than 1% of that at Chernobyl – with an effect reduced still further by iodine tablets. (BBC opinion piece)
It may be argued that Fukushima is still releasing radioactive material into the environment, but since we (normal citizens) can't do much to change what has happened and is happening, how do we live with that? Do we jump at shadows or do we calculate the risk?
The greatest health threat according to a BCC opinion article by a radioactive health expert seems to be psychological. Because we can't see it or feel it until we suddenly get sick. It's frightening. That scare was emphasized in the Cold War.
In the Cold War era most people were led to believe that nuclear radiation presents a quite exceptional danger understood only by "eggheads" working in secret military establishments.
To deal with the unknown danger, a regulation focused on producing measurements As Low As Reasonably Achievable (ALARA). But it's impossible to reduce levels below the naturally occurring radiation in background levels I mentioned up above.
So, it's a matter of comparing measurements and making educated evaluations as to what has no impact on normal life and what is too much.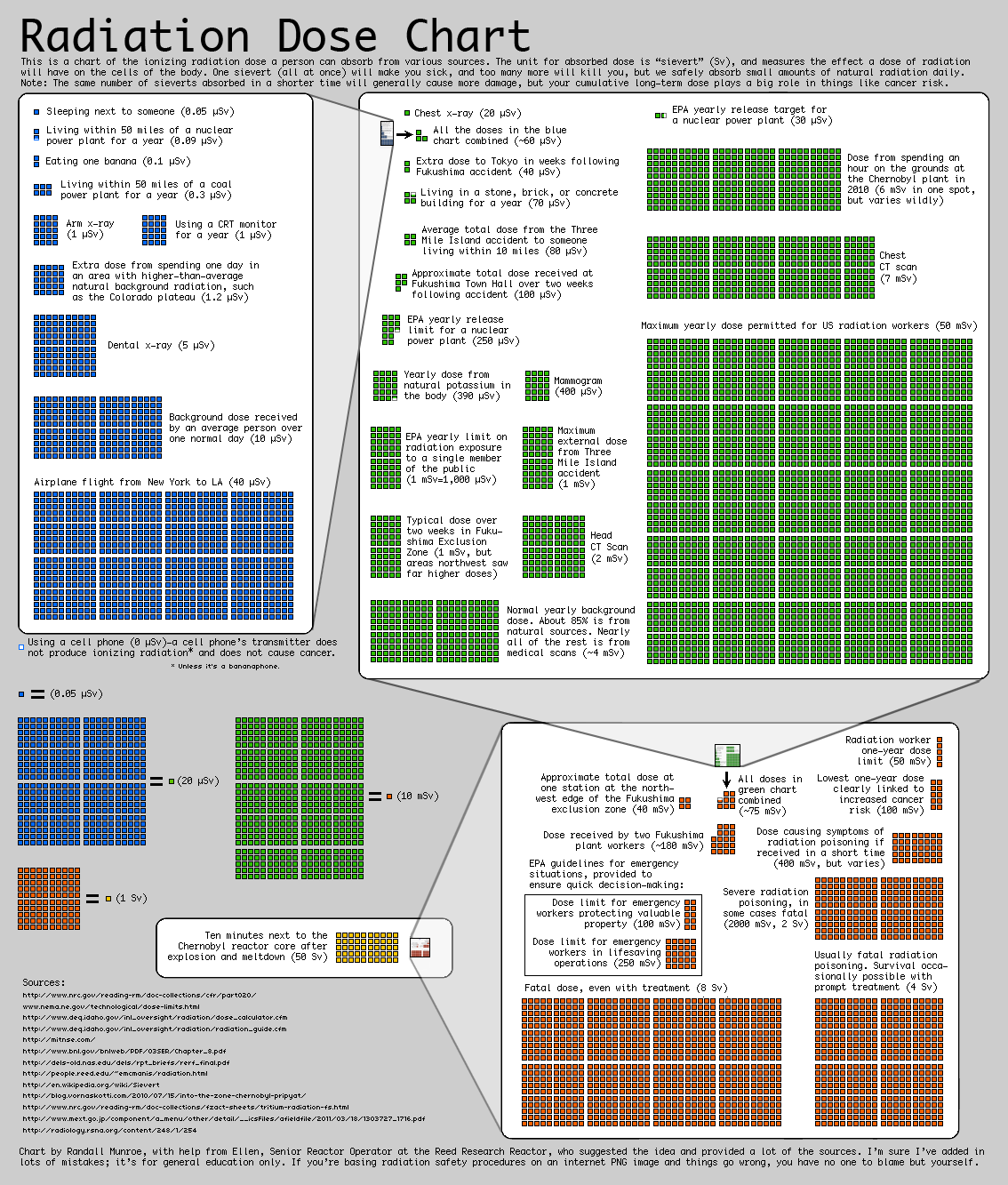 (Click the image to enlarge. This is by a physics grad student and author of XKCD.)
The levels on University of Tokyo campuses are still in the low half of the blue dots in the image. It's less than taking a US domestic flight from New York to LA.
So, it seems to me that the reaction in Germany and elsewhere is really a psychological scare. An opinion piece from Zeit Online drives that point home.
Doch angesichts der Lage in Japan wollen die meisten Menschen nichts mehr von Statistiken, Wahrscheinlichkeiten und Risiko-Abwägungen hören. Sie wollen nicht mehr wie das scheue Reh abwarten und hoffen, dass die Gefahr an ihnen vorbeifährt. Für sie ist das abstrakte "Restrisiko" zu einem realen Monster mutiert. (Faced with the situation in Japan, most people don't want to hear any more about statistics, probabilities, risk evaluations. They don't want to be like a shy deer, waiting and hoping that the danger will drive by them. For them, the abstract "risk" has mutated into a real monster.)
So, the Germans protest and change their politics. But it seems to me that this response is too highly driven by emotions than rational thought.
Psychological damage from radioactive scares is remarkable according to another BBC article, which states that, "a UN report identified psychological problems as the major consequence for health" after Chernobyl. Are we really willing to scare ourselves into bad health when the threat is not as big as we think it is?
Also, does Japan really have any viable alternative sources of electricity? Not really. Not at the moment.
Then, why am I going to the protest tomorrow? Because it has a lot more to do with a need for change in this society in general than for a highly emotional response to the threat of radioactivity. We need to take charge of our own lives, learn we have a voice, join together and create community. That is what we need now. See you tomorrow!